…fresh, tested and in a diversified variety on the table!
Food
… is uniformly defined under European law to be any substance or product intended to or of which it reasonably can be expected to be ingested by humans in a processed, partially processed or unprocessed state, including chewing gum, water, beverages and all substances that are intentionally added to food during its manufacture or processing. This comprehensive definition goes far beyond the purpose of "nutrition and enjoyment" of the former German food law, in particular to meet the requirements of food safety.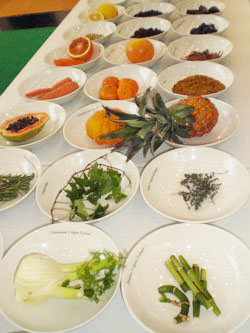 Disease-related or misleading advertising (this includes, among other things, scientifically insufficiently verified information) is prohibited in the food trade.
Health claims or health-related statements are regulated and evaluated in a European regulation on nutrition and health claims made on foods and summarized in a so-called European Community Register. With the "Health-Claim Regulation" a prohibition principle was introduced, according to the motto: "What is not allowed, is forbidden." At the same time, all claims must be based on and substantiated by generally accepted scientific evidence.
Health-claims must be formulated in such a way that they are well understood by the average consumer, accurate and scientifically verifiable. They are divided into:
nutritional claims (e.g. "sugar-free", "low-fat" or "rich in unsaturated fatty acids": conditions of use are precisely prescribed)
health effect claims (e.g. "important for the joints", "strengthens the immune system": initially prohibited, unless included and listed as a permissive "claim" in conformity with the conditions given)
claims referring to the reduction of disease risk (new: e.g. "can lower an elevated cholesterol level and thus reduce the risk of cardiovascular disease") may only be made if they are included in the Community list of permitted claims.
Foodstuff is generally not subject to approval.
However, special conditions and legal regulations apply to import, production and distribution. For this purpose, Food & Cosmetic Consult GmbH offers extensive consulting services.
Consulting services food:
Product checking to determine the marketability of food in German-speaking countries
The range of services offered by Food & Cosmetic Consult GmbH as an expert office includes the services described under consulting services marketability check.
In addition, we offer special consulting services for food for general consumption as to marketability in the German-speaking countries Germany, Austria, Switzerland, and partly Belgium and Luxembourg with regard to:
queries of delimitation: Food in delimitation to medicinal products per presentation with the predominant purpose of alleviating, healing or preventing diseases or pathological symptoms,
queries of delimitation: Food in delimitation to functional medicinal products that restore, correct or influence physiological functions through a pharmacological, immunological or metabolic effect,
queries of delimitation: Food in delimitation to class I medical devices with a predominantly physical effect,
checking for permissible and a predominantly food-typical composition (ingredients according to type and dosage, additives, "botanicals", "gene food", nano, novel food ingredients, organic quality),
selection of necessary analysis parameters and execution of lab tests in cooperation with accredited laboratories. Subsequent evaluation and interpretation of lab results,
requirements and general conditions for first-time importers into the EU and Germany, as well as manufacturers and retailers within the framework of food and hygiene regulations = "compliance" with food legality,
checking, creating and revising the mandatory labeling on container and package (correct and complete),
checking, creation and revision of voluntary advertising statements,
checking for compliance with packaging regulations,
requirements regarding quality management according to HACCP, possibly other quality standards such as: eco, IFS, DIN 22000; Consulting, preparation and implementation of internal audits.
Expert opinions on special issues and claims for insurance companies.
Please note: Written checking reports and hints relating to labeling elements are given in German. We will only provide a written translation into English for an additional fee if expressly requested. We can conduct verbal advice and discussions in English.
You are of course also welcome to use the contact form to get in touch.
For free initial information, we are also happy to offer a callback service.