Your assessor, "Senior Expert Consultant"and approved cross-checking expert for food and cosmetics for issues of marketability of food, cosmetics and quality assurance.
Your safety when placing food and cosmetics on the market …
… Germany or the German-speaking member states of the European Union, in dealing with authorities and the regulations of German, Austrian or European food law is an important concern for me.
As a basis for a trustful cooperation, I offer high competence and many years of experience in the field of product testing and marketability checking (composition, labeling, "regulatory") of food, with special focus on food supplements and cosmetics, and quality assurance. The competence of a food chemist also includes consumer goods (products in contact with food or human skin, room sprays, etc.), packaging materials, animal feed, fertilizers, as well as the border areas to medical devices, biocides (desinfectants).
For special issues, I create audit reports and certificates, as well as expert opinions, including damage reports. I do not however, prepare toxicological reports.
After positive completion of a product testing and marketability checking, I issue marketability certificates.
In the following, about me
Josef N. Wahler
Studied food chemistry at the Technical University of Munich and the Ludwig-Maximilians-University of Munich, graduation with a Master's degree in food-chemistry, followed by a clerkship at Landesuntersuchungsanstalt Südbayern (LUA) in Munich, graduating in 1981 as a state-certified food chemist.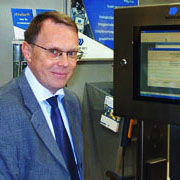 1982 Start of professional career in the cosmetics industry as a "company trainee" at Blendax-Werke, Mainz.
1984 Various national and international activities as a freelance food chemist. Postgraduate studies in philosophy, business administration and marketing. Training as auditor in quality management (TÜV Süd).
In Juli 2004 I opened up my expert office Josef Wahler in Munich with special focus also on quality management.
Since April 2005 I have been appointed by the Munich Chamber of Industry and Commerce as a publicly appointed and sworn expert for food, food supplements, cosmetics, declaration, composition, delimitation, quality assurance in the food industry.
I assess and assist with regard to legal requirements and their implementation for the classification, composition and labeling of foods, cosmetics and food supplements, including dietetic foods for special medical purposes (balanced diet), other dietetic products, as well as with regard to product quality and product safety within the European legal framework for food cosmetics, consumer goods, biocides, animal feeds, fertilizers and pharmaceuticals, and special provisions in Germany, Austria and Switzerland.
Since August 2018 I was appointed an authorized private cross-checking expert according to § 43 LFGB for the analysis of food and cosmetics.
In quality management, as QMB/QMA, I take on external consulting, implementation and conducting internal audits according to DIN ISO 22,000, IFS, eco. I also engage with hygiene conformity / HACCP for small and medium-sized companies, as well as with advice, implementation and certification according to cosmetics DIN ISO 22716.
I have been retired since May 2020, but still engaging and looking after my regular clients, as well as working on interesting issues.
Memberships and Commitments:
member of the German Chemical Society (GDCh)
former member of the Quality Management Working Group of the German Society of Food Chemists (LChG)
former chairman of the Society for Naturopathy and health protection Germany e.V.
author and co-author of books on food and healthy nutrition (sugar-no thank you, etc.)
It is possible to join Food & Cosmetic Consult GmbH as a silent or active partner with the option of a later takeover.
You may contact me directly with a letter, but of course you may also use the contact form.